ELAB Analytics GmbH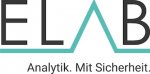 Birlenbacher Strasse 14
57078 win ,
Phone: + 49 (0) 271 / 7750 444
Fax: + 49 (0) 271 / 7750 500
Contact Person: Vera Sharp
E-mail:

This e-mail address is being protected from spambots To display JavaScript must be turned on!


Website: https://www.elab-analytik.de
Updated on: 16.09.2022
Member since: 01.02.2021


We are your strong partner for everything to do with food analysis
ELAB Analytik GmbH is a laboratory accredited according to DIN EN ISO/IEC 17025 and offers you a wide range of analytical services that are interesting and important to you. We mainly work according to the official procedures (§64 methods).
Range of services (selection):
Chemical investigations to confirm the product quality and declaration
Full analysis of meat and meat products (BEFFE, etc.), conformity with guiding principles
Nutritional analysis (Big 7, Big 8) according to LMIV
Allergens
additives
Vitamins
Microbiological studies for product safety
- Your raw, intermediate and end products
- According to VO 2073/2005, DGHM recommendations or your individual requirements / specifications
- Parameter selection: total bacterial count, enterobacteria, E. coli, salmonella, listeria
and much more
- Salmonella and Listeria also using the rapid PCR method (MDS)
Investigations of (material) surfaces for evaluating environmental hygiene
using slides, swabs or scratch sponges
Listeria monitoring
Drinking water tests
according to drinking water regulations
microbiological (incl. legionella)
chemical (heavy metals, PAH, LHKW)
personal hygiene
Examination of stool samples for Salmonella (all data are transmitted electronically - simply, clearly and quickly)
Consulting

Our qualified employees in the food department will be happy to advise and support you with all questions relating to food law, hygiene and quality management, in selecting the optimal scope of examinations and in interpreting the results.
Due to regular participation in further training, our expert work at the DLG and our participation in DIN committees and within the GDCh, we can also provide you with competent support for new developments.

This is important to us

Accessibility, reliability, trust, quality of our data, competence, commitment and flexibility, fair prices - completely satisfied customers.
Test us - we look forward to hearing from you!