SUHNER Schweiz AG

Industriestrasse 10
5242 lupfig ,
Phone: + 41 (0)56 464 28 28
Fax: + 41 (0)56 464 28 29
Contact Person: Markus Bruner
E-mail:

This e-mail address is being protected from spambots To display JavaScript must be turned on!


Website: https://www.suhner-abrasive.com
Updated on: 21.09.2022
Member since: 14.02.2017


Suhner abrasives ABRASIVE division – Trimmers from Switzerland
The existing for over 100 years international Suhner group from Switzerland is also successful for years with trimmer working for the meat processing industry. We produce high-quality trimmer with an extremely low weight. These are stable in value and allow a pleasant, efficient and non-tiring work. The specially hardened quality blades and knives guide rings, in the best Swiss quality, offering long service life - users benefit from lower maintenance costs.
The reinsertion of the ring diameter after cleaning or after sharpening is quick and easy - no fine tuning is not necessary. The proverbial Swiss precision in the tuning of the handpiece through the pinion to the ring diameters allows a low-vibration and fatigue.
We offer a high-quality and powerful trimmer system made in Switzerland.
Suhner Turbo Trim handpieces
High-quality handpieces POM-C plastics have a low weight, are stable in value and allow a comfortable, fatigue-free and efficient working.
Flexible shafts for meat trimmer
High-quality, high-performance flexible shafts for meat trimmer. Compatible with Suhner Turbo Trim Standard and Safety handpieces and ROTO TT drive motor. Our flexible shafts are partially compatible with handpieces and drive motors from other manufacturers.
ROTO TT Vario Speed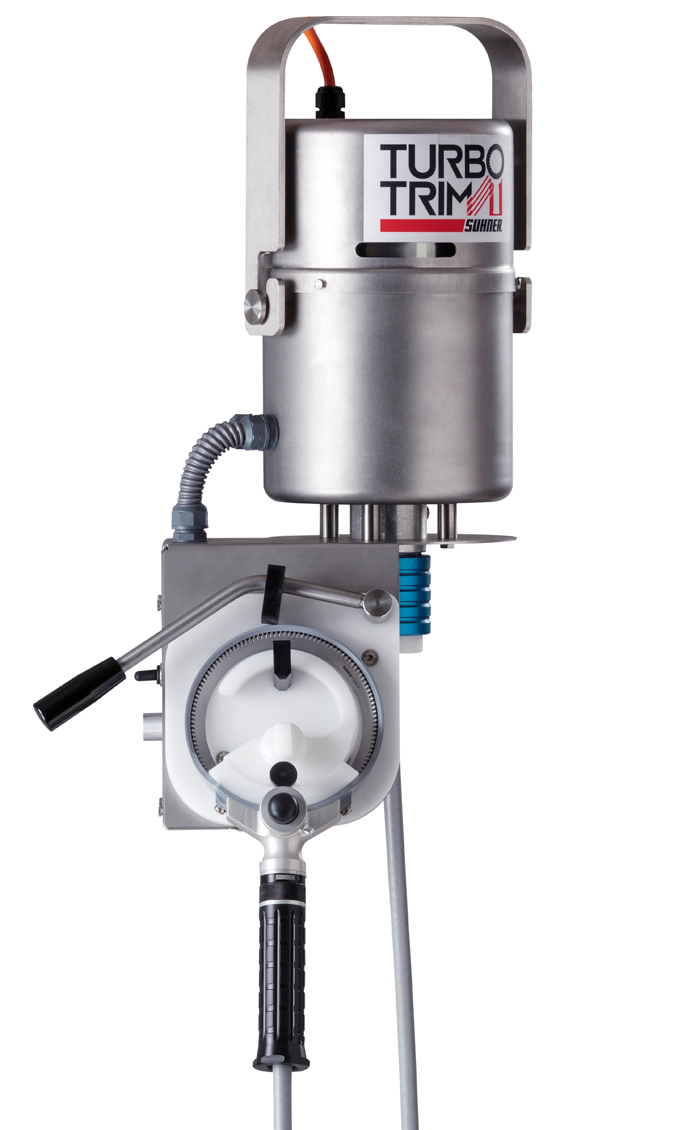 Motor unit with infinitely adjustable speed.
- The speed is continuously adjustable between 2 and 000 rpm.
- Safe holding of all handpieces in all sizes
- Automatic stop device when hanging the handpiece
- The housing is made of high quality stainless steel and corresponds to protection class IP56
- Rapid exchange of the flexible shafts guarantee short downtimes and high productivity






Keywords: butcher's tools | Ring knife | Circular knife | Cutting tools for meat processing | Trimmer